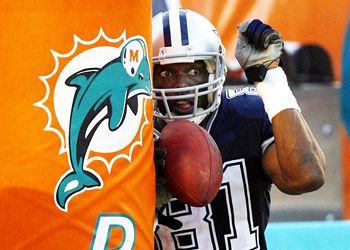 Let me start by telling everyone to head over to inrainbows.com to support the best thing going in the music industry right now. Radiohead has just released their new album without the use of a record label AND you can pay up to $0.00 for it. It's a great CD and it's about time an artist, especially one as big as Radiohead, has tried to transform the industry. Bands don't make money off of albums as it is so why not just release them on their own for free so that the RIAA can become defunct and stop badgering the pirate community.

Moving on, maybe you all know how it works; maybe you don't. I ran through it last week, but it's not like anyone was reading. Bro's are the guys I think you'd share a drink with after the Week 6 games and the Hoe's are the guys who you'd want to kick to the curb like a cheap hooker. Some of these names may seem obvious, some not so obvious - but here it goes.


BRO's
Adrian Peterson

- catches the ball well out of the backfield and makes things happen; great in a PPR league

Bobby Wade

- Someone has to catch balls in Minny and Chicago is WEAK in the air

Ronnie Brown

- have the Browns slowed down anyone on the ground this year, nonetheless the top RB in fantasy?


Cleo Lemon/Chris Chambers

- that's right, you heard it here first; let's hear it for the Browns defense


Jason Wright

- you beat the Dolphins on the ground (worst in the league) not through the air


Clinton Portis

- Washington grinds this one out on Portis' shaking knees


Larry Johnson

- Hope you didn't sell early, he's got a cake schedule coming up


Dwayne Bowe/Tony G

- This kid is for real and Cinci's D is just a bunch of lost children


Kenny Watson

- No Rudi + KC's strong passing D = watch out for Watson


Donovan McNabb

- Did you see Plax vs. Dyson last Sunday? Yea, that's just a small example of the Jets defensive backs


LenDale White

- If Tenn. wants to win, they must establish this kid early and often


Vince Young

- Not through the air but with his feet - this kid just straight wins game


Brian Westbrook

- It's no prettier in the front seven for the Jets; even Winston Justice might push Dewayne Robertson around


Willis McGahee

- St. Louis is awful and the Ravens pound the rock; anything to keep it out of McNair's hands


Kurt Warner

- I will allow him to throw for 50 TD's as long as we will never have to see his wife again


Bryant Johnson

- Fitzy is too obvious with Boldin hurt; this kid is productive every time he is called upon


Nick Folk /Stephan Gostowski

- As you'll see later I'm not thinking offensive explosion here. I see something more along the 12-6 final.


LDT

- Obvious but true. Oakland gives up a TON on the ground


Reggie Bush

- Has value every week in PPR; just keep catching those balls Reggie, you'll find the end zone eventually


Drew Brees/Marques Colston

- Second week in a row; here's to keeping the faith


Matt Hasselbeck/Bobby Engram

- No Deion Branch + Jason David as opposition = Engram shining


Brandon Jacobs

- You beat Atlanta up front not over the top; Jacobs will punish them


Greg Olsen

- Griese likes his TE's and Olsen was targeted a bunch last week; here's to supporting local talent


Ronald Curry

- Someone in the Oakland WR corp. has a big day against SD; why not Curry?


Dennis Northcutt

- Silent but deadly; really, check the numbers


HOE's
Cedric Benson

- He'll be on this list each and every week; S-O-F-T!


Derek Anderson

- Miami is best in the league against the pass, surprising huh?


Kellen Winslow/Braylon Edwards

- Makes you wonder where the offense will come from, Jason Wright anyone?


Donald Driver/Greg Jennings

- Washington covers WR's well and Favre will use his lesser options more (Jones, Lee, Franks)


Chad Johnson/T.J. Houshmanzadeh

- KC is great against the pass. LJ helps keep possession and run down the clock allowing little opportunity for these two to get going


Thomas Jones

- Two crappy weeks in a row and here comes a third


Earnest Graham

- Nope


Matt Schaub/Andre Davis

- Jacksonville secondary is tough and I don't think either are as good as they've shown


Brian Leonard

- Not with that O-line against Ray Lewis and company


Gus Frerotte

- Welcome back Gus, didn't want us to forget who you really were


Steve Smith

- He has Vinny T throwing to him; enough said


Tom Brady/Randy Moss/Sammy Morris/Laurence Maroney

- Nothing good, nothing bad. Just a grind it out game


Tony Romo/TO/Marion Barber/Jason Witten

- TO doesn't have much to say now and won't have much to say after either


Warrick Dunn/Jerious Norwood

- Neither of these guys are going to get it going this year I guess


Lamont Jordan/Justin Fargas/Dominic Rhodes

- Word on Lamont's back is no good and it's a messy situation behind them; they also have SD's front seven to deal with


Jeremy Shockey

- Put up or shut up; I'll go with the latter, please


Let's hope I fare a bit better this week as last week seemed a little squirrelly. Feel free to comment on what you like or don't like; I'd love to hear it.